Group Programs
Start your parenting journey together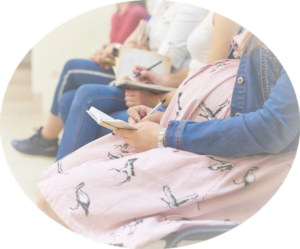 Our Group Programs are designed to address the emotional and educational needs of prenatal and parenting youth. We offer a variety of FREE weekly group programs including:
Parenting Programs


Multi-week programs that focus on specific aspects of parenting and personal development, such as attachment, resiliency, positive parenting, healthy relationships and self-empowerment.

Workshops


Sessions cover specialized topics such as early literacy, budgeting, mental wellness, and more. Some workshops are interactive with mom and child, others are just for moms.

Socials


Special occasion gatherings (when safety restrictions allow) that bring participants together to celebrate occasions like Mother's Day, cultural holidays, back to school, and more.

Talk Cafe


Participants discuss what is happening in their lives, including successes, challenges, concerns, and more.  The format of Talk Cafe is continually informed by the feedback that comes out of the sessions.
Mothers and mother-figures of any age living in York Region.