Food Security
Helping you raise a strong, healthy family with access to groceries, baby food and nutrition resources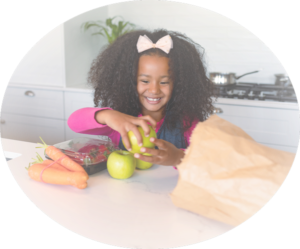 Our Living & Learning Together in the Kitchen is a FREE nutrition and food resource program that offers onsite/online nutrition and cooking workshops that teach young parents safe food handling, basic cooking skills, kitchen safety, and how to make healthy, family-friendly meals on a budget. Personal nutrition consultations are available to help parents with their family's unique dietary needs.
We offer FREE home deliveries of family care packages which include fresh groceries, food staples, baby nutrition (formula, cereal, food) and baby hygiene supplies (diapers, wipes) to families who can use a helping hand.
Prenatal and parenting youth ages 14-29 years.